I got 8.86 seconds. The crowd give me a round of applause.
That's my best time on official competition of Rubik's cube. I also manage to get my official best for 2x2 by 2.34 seconds and one-handed 3x3 by 14.82 seconds.
That's my peek performance in a single competition, I could say. It was 2017, also my last Rubik's cube competition, yet.
I never committed to any hobbies at the level of my commitment to Rubik's cube. It was my proudest thing I could ever be proud of. It was my trophy.
For most people, that's very fast. Although, at professional world level my results is a joke xD. Best world solver could solve the cube within 5-7 seconds most of their solve.
At national level, I only manage to get to #72 for my 8.86 seconds. I never really work hard enough to get better.
In my defense, it because I never really looking for the best speed, not even become a national champions. There is something other than speed that hooked me so bad. Other that being the fastest.
---
Sunny day at 2010.
I rushed my bag from school go straight to home. I instantly turned on my desk computer and connect to the internet from ADSL modem. Then, open Firefox browser and click a specific page on my bookmark.
Unfortunately, it's now closed.
I wasn't not giving up. I was keep refreshing the webpage looking for a chance. Getting bored, I open some of my game. Fifteen minutes and countless refresh but still no luck. I decide to take a break.
I'm starting to refresh the page again.
BAM! I got it! That's the form I'm looking for.
I filled the form as fast as possible. I glad my two hands typing skill serve me good since grade 5. I submitted the form. It's done. That was intense but I was very happy with the result. I came back with my Counter Strike 1.6.
---
Later at night.
I checked my email. Hoping for a confirmation email from the committee.
My Gmail display "1 New Email" but the subject was not the one I'm hoping for.
Subject: "Why You Keep Submitting The Registration Form?" From: The Committee

Why you keep submit the competition form? You should know that the registration is already closed.
The organizer was really mad at me. It was my 7th, if not 10th, times I filled the form.
My heart crushed. I never prepare for this painful rejection. That form was never really for me to fill. It was for someone in the waiting list in front of me. I was totally sad and mad. To myself.
That was the first time I know the existence of word 'denial'.
---
I missed the quota a month ago when the registration is open. The first online registration was so crowded. Everyone in the community was expecting the date of registration.
Just few weeks after first registration the committee give another round of registration. Some lucky folks from the first registration seems turned down the chance to participate.
That was my second chance. The only thing that bother me is the second registration open at 2am. There is no way I could staying up until that late.
I went to bed at 8pm after set up an enormous number of alarm from 1.15am to 1.59am at my phone.
That was a good sleep.
*🔊🔔🎶🔔🎶🔔🎶🔔🎶 1.15am
*🔊🔔🎶🔔🎶🔔🎶🔔🎶 1.20am
*🔊🔔🎶🔔🎶🔔🎶🔔🎶 1.30am
*🔊🔔🎶🔔🎶🔔🎶🔔🎶 1.45am
*🔊🔔🎶🔔🎶🔔🎶🔔🎶 1.59am
...
"Hey, wake up"

"It's already 2am!"
My mom was shaking my body as she waking me up from my good dreamless sleep. I jump out of my bed. Turned on my computer. The clock showing 2.15am.
I hate that my computer seems to know that I was in hurry. It's booting up so slow.
It's already closed. That was my last chance.
I regret my good night sleep lately. I cried.
---
It was the first and the biggest national championship of Rubik's cube in Indonesia. Everyone in the community want to participate and I can't. Because of that stupid crowded registration.
I was ready to moving on, tired of waiting my position goes up in the waiting list. That's when an email hit my inbox.
"[Indonesian Championship 2010] Congratulations You are Invited!"
I was invited! My first Rubik's cube competition ever!
I told my mom. She was also happy with it. I already started practicing the moment I know I was in. My mom arranged the ticket and accommodation. That was the moment that I will never forget. Wow.
---
D-2
I was already landed on Yogyakarta. I pay visit to some of my cousins and family. Took a trip around the city while also looking for the venue. I was nervous but also excited. It's really come true.
---
The D-day
I was the first timer. So, I should attend qualification round first. I was ranked at 72nd place with 21.55 seconds as my fastest solve and 26.43 average of solve. It's not enough to qualify to the next round.
Sad but also not really surprising since it was my first competition. Well, at least I won over my classmate. He ranked at 78th.
I was also participating on 3x3 one-handed solve. I got 47.08 seconds as my fastest solve and 53.93 seconds average of solve. Placed me at 71st rank. Not bad for a first timer.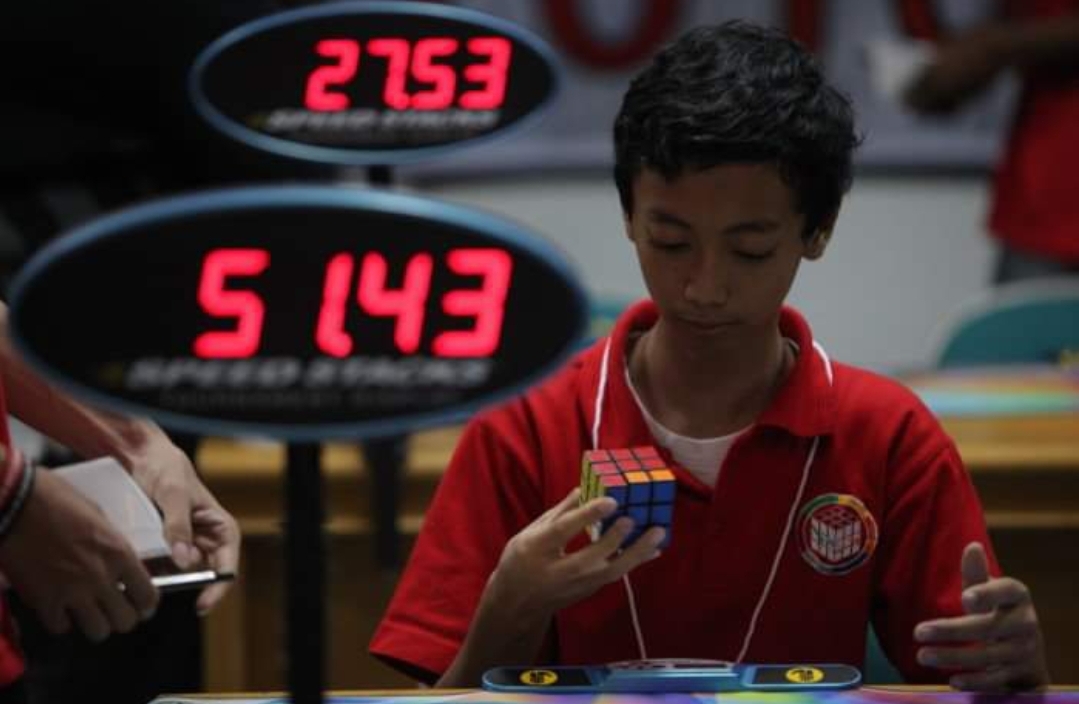 At least I got my first ever candid photo 😆
---
It is all really fun. Meeting the people that I only interacted with in the online forum in real life. Indonesia Championship 2010 was my first "kopdar" (gathering) with the community of Rubik's cube in Indonesia.
I was never really expect to enjoy the community activity until I joined the online community, Rubikku - rubikku.ning.com, and compete in real life competition.
Since that day I continue my career, if that counted as a career, in speedcubing until 2017.
I compete in eleven competition and complete 474 solve, including 2x2-5x5, 3x3 one-handed, 3x3 with feet (yes), 3x3 blindfolded, and other bizarre and weird cubes and "cubes".
My proudest, if that make sense, record is at:
Pyraminx with 2.34 seconds as the fastest record which place me in the 16th rank of National Record,
17.28 seconds average of 3x3 one-handed solve that place me in 31st rank of National Record,
and some pathetic time compare to world record holder. Only if you're interested, you could see my official WCA record here click here
I realized that the community, the people, that hooked so bad into Rubik's cube world. A place where I found strangers and making friends with them.
It was really brigthened my day as a teenager. School, Rubik's cube, and repeat.
I'm blessed I could joined this community. Cool people. Very welcome. I hope I could come back, compete again, turn the cube again.
I will never forget the community. Like I never forget a hundreds of algorithm of Rubik's cube I've ever memorized.